---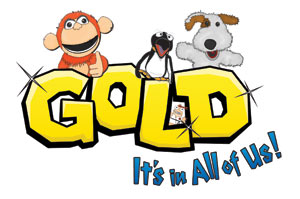 GOLD is a FUN communication tool.
GOLD helps children understand more about who they are and how they work.
It also helps parents and teachers understand their children, and in the process helps them become better parents and better teachers.
---
Each of these animals displays a behavior that we can relate to. We actually possess all four of these behaviors, but what differs is the extent of each.
---
There are 3 steps to GOLD:
Discover the GOLD in you.
Identify which animal you are most like. This will bring understanding to how you teach, parent and communicate. Most importantly it will show you what you need from others!
Look through the GOLDEN GOGGLES and see the GOLD in others.
As you embrace GOLD you will begin to recognize the behavioral patterns of the Gorillas, Fleas, Penguins and Dogs in those around you. You will begin to realize why others act like they do!
Embrace the NEW GOLDEN RULE.
Treat others how they need to be treated – not how you need to be treated!'
---
GOLD is NOT about who you are.
We are all unique. We are all built differently. What GOLD is, is all about helping us communicate. Most people don't want to hurt others, but they do (in marriage, friendships and in life) and mostly through miscommunication. Most people are trying to communicate by giving other people what they need instead of what the other person needs.
---
So what's the big secret?
The secret is to use the GOLDEN GOGGLES!
As we understand the different animal types, strengths and needs and how we all work differently, we are able to look through the GOLDEN GOGGLES and see how others work and what they need.
GOLD is not about putting people in boxes.
GOLD is about communication. It's about meeting everyone's needs to bring harmony and get better results. This, in turn, helps people 'get out their box' and live bigger, more fulfilled lives.